A look inside our Remy human hair wig brand - Silk or Lace Collection Wigs
If you're looking for an extremely natural looking, lightweight human hair wig with bleached knots and a detailed irregular hairline that matches a real human scalp with ultra-fine hair - you may want to consider our Silk or Lace Collection wigs.
After seeing over 2000 human hair wigs and hair toppers from boutique brands across the globe, we still felt like something was missing in the market and set out to create it. Over two years of research and development went into this collection and our glueless wigs finally hit our website earlier this year.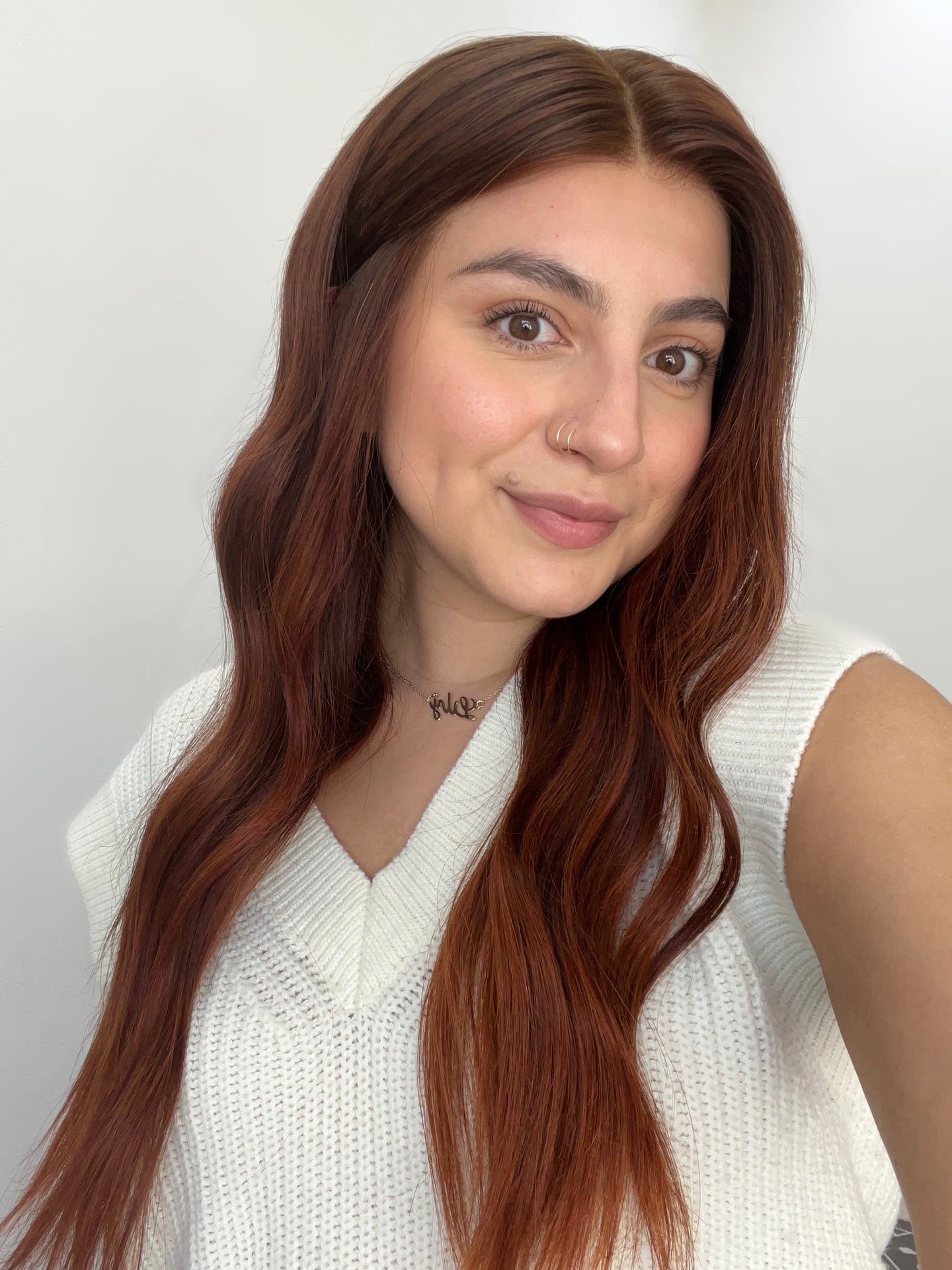 What makes our wigs so realistic and natural looking? 
Our hairline is one of the most natural looking hairlines on the market!
Our human hair wigs are made with transparent HD lace, a super fine material that melts into your skin. 
The glueless 2.0 wigs are double lined with a mesh material, giving it an even more scalp-like appearance and protects the lace as well!
It has an irregular shape that imitates a natural hairline going further back towards the temples. All of the knots are bleached and plucked which makes them very hard to detect!
Our Remy Indian hair texture mimics European and Slavic hair texture making it a closer match for women with thin hair, hair loss, and alopecia. 
Indian hair texture is much finer compared to Brazilian, Mongolian, or Chinese hair. It has a similar density compared to European and Slavic hair texture in that it has natural body and "floofiness" that mimics someone who experiences alopecia (hair loss ladies, you know what I mean!). 
If you're looking to blend your hair at the sideburns, the fine hair allows you to do this seamlessly without seeing a texture difference. 
As with all human hair, you may also style and curl the hair as you wish! Our 5x5 lace top allows multidirectional parting as well!
How are your wigs "glueless?"
Our wigs feature structured eartabs with silicone lining on the eartabs, back of wig, and nape making the wig secure. On top of this, our Silk or Lace collection wigs have a comb in the back of the cap along with a silicone lined wig band that straps along the back of your head (not the front!!) so that it gives invisible grip!
This wig cap construction allows you to wear the unit without any glue, tape, or other adhesion. You can take the wig on and off at night time and you can "install" the wig by simply putting it on like a hat in seconds! 
What are other people saying about Silk or Lace collection wigs?
Don't just take our word for it, see our reviews from actual customers!
🌟 🌟 🌟 🌟 🌟 5 star review from Susannah: Absolutely gorgeous

Naomi is the perfect cool to neutral brunette, with a medium brown root and lighter, highlighted lengths. This is the first small cap wig that properly fits me, as it runs a bit small (probably could be described as xs/s). The ear tabs do not hit my ears, which makes me so happy. I have alopecia and appreciate the silicone lining on the ear tabs and back of the cap. I love the fine hair texture, that naturally has volume and lift at the crown. The hair tapers toward the ends, giving a very natural look. This piece was much longer than I usually wear, so I did cut about 6 inches off (!) and layer it, and it just looks stunning.
🌟 🌟 🌟 🌟 🌟 5 star review from Elsa Marvel: I'm in love!

I couldn't be happier with this hair! I'm new to wig-wearing, and this is the first piece I've tried on that worked out for me after a few unsuccessful attempts. The hairline is unreal (as in, it looks SO real), the color is a great match for my bio hair, and the hair feels really soft and healthy.
🌟 🌟 🌟 🌟 🌟 5 star review from Carissa: Just wanted to share!!

I just received my package, "warm sophia". I just want to share with you how much I love it, I am never disappointed with anything from your collections, this is my 3-4 piece from you within the year. Your pieces are unmatched, the joy of a new piece from silk or lace literally brings me back to life lol coming from someone whose been suffering with alopecia.

Ps. I have ordered from other websites and your customer service is beyond the best, you respond and also have sent me additional pictures in different lightening to help color match - other websites don't even respond nor will go beyond to help their customers when ordering online.


How do I know what wig size is right for me?
Are you a beginner? Here's an article on how to measure your head for a wig.
Here are a few tips on how to gauge whether a wig correctly fits:
1. The Finger Test: insert a finger underneath the wig cap. You should be able to fit your finger in between the cap and your nape snugly. If you're not able to fit a finger inside, it may be too tight. If you're able to fit more than one finger in between your head and the cap, it may be too loose. 
If it's too loose, try adjusting the straps in the back of the wig! However, if there is too much of a gap and materials that bubbles up in the back, you may need a smaller size. 
Overall, the wig should fit like a baseball cap! Not too tight and not too loose!
2. Check for any gaps between the back of your head and the cap. If you have a flatter head in the back, it's normal to have a little bit of a gap! However, it shouldn't visually look bulky. Make sure the back of the wig cap is at the very bottom of your nape. This reduces "wigginess" - if it still looks bulky, you may need a smaller size. 
3. For lace top and lace front wigs, check if the lace front is laying flat. You shouldn't see any ripples! If you see the lace lift up, the wig may be the wrong size for you. 
Questions? Email us at contact@silkorlace.com or sign up for a free consultation!